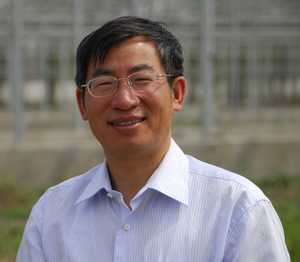 Dr. Liangsheng Wang, Professor. Received his bachelor's degree from Xiangtan University in 1985, received his master's degree from East China Normal University in 1996, and obtained his PhD degree from Kagoshima University in Japan in 2001. Dr. Wang was introduced to IOB, CAS in 2004. He serves as the executive director of Peony Branch of China Flower Association and the director of Chinese Society of Horticultural Science. He managed 14 projects from the National Nature Science Foundation and Ministry of Science and Technology etc. So far, he has published 59 research papers, including 23 SCI papers and obtained 3 authorized patents. Now, he serves as the executive deputy director of the Beijing Botanical Garden and the deputy director of the Key Laboratory of Plant Resources, IOB, CAS.
Email: wanglsh@ibcas.ac.cn Tel:86-10-62836654
Research Focus:
(1) Collecting wild species and cultivars of Paeonia and Vaccinium spp. and evaluating their quality characters;
(2) Elucidating the mechanism(s) underlying ?ower color formation and fragrance production;
(3) Establishing core germplasm and developing new ornamental cultivars by orientation cross breeding and molecular breeding.
Publication:
1) He QL, Shen Y, Wang MX, Huang MR*, Yang RZ, Zhu SJ, Wang LS*, Xu YJ, Wu RL*. 2011. Natural variation in petal color in Lycoris longituba revealed by anthocyanin components. PLoS ONE, 6(8):22098.
2) Li CH, Du H, Wang LS*, Shu QY, Zheng YR, Xu YJ, Zhang JJ, Zhang J, Yang RZ, Ge YX. 2009. Flavonoid composition and antioxidant activity of tree peony (Paeonia section Moutan) yellow flowers. Journal of Agricultural and Food Chemistry, 57:8496-8503.
3) Yang RZ, Wei XL, Gao FF, Wang LS*, Zhang HJ, Xu YJ, Li CH, Ge YX, Zhang JJ, Zhang J. 2009. Simultaneous analysis of anthocyanins and flavonols in petals of Lotus (Nelumbo) cultivars by high-performance liquid chromatography - photodiode array detection /- electrospray ionization mass spectrometry. Journal of Chromatography A, 1216:106-112.
4) Shu QY, Wischnitzki E, Liu ZA, Ren HX, Han XY, Hao Q, Gao FF, Xu SX, Wang LS*. 2009. Functional annotation of xpressed sequence tags as a tool to understand the molecular mechanism controlling flower bud development in tree peony. Physiologia Plantarum, 135: 436-449
5) Lu YQ*, Du J, Tang JY, Wang F, Zhang J, Huang JX, Liang WF, Wang LS. 2009. Environmental regulation of floral anthocyanin synthesis in Ipomoea purpurea. Molecular Ecology, 18(18): 3857-3871.
6) Jia N, Shu QY, Wang DH, Wang LS*, Liu ZA, Ren HX, Xu YJ, Tian DK, Tilt KM. 2008. Identification and characterization of anthocyanins by high-performance liquid chromatography - electrospray ionization- mass spectrometry in herbaceous peony species. Journal of the American Society for Horticultural Science, 133:418-426.
7) Jia N, Shu QY, Wang DH, Wang LS*, Du H, Xu YJ, Liu ZA. 2008. Analysis of petal anthocyanins to investigate coloration mechanism in herbaceous peony cultivars. Scientia Horticulturae, 117(2):167-173.